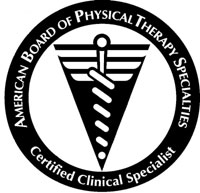 BodyBenders is owned and operated by Katie Glaser-LeClere, MSPT, PCS.
Katie graduated from Boston University with a Master of Science in Physical Therapy in 1997. She has been working exclusively in pediatrics since 1998.
She began her pediatric career in the Prince George's County School System.  In addition to her clinical responsibilities, she performed administrative and managerial roles including Team Leader, Augmentative Communication Chair, and Clinical Instructor for physical therapy students.
During this time, Katie also competed in Acrobatics and Power Tumbling at Hill's Gymnastics in Gaithersburg, an Olympic Training facility and home of Olympic gymnast Dominique Dawes. Katie won numerous National titles in the Women's Trio and Women's Pair events. She served as Assistant Coach and Team Consultant to the Hill's Illusions Sports Acrobatics Team. She also served the United States Sports Acrobatics Federation as a Local Judge and Eastern Region Promotions Committee Chair.
In 2003, Katie began a pediatric private practice as an itinerant provider throughout Frederick, Montgomery, Howard, Carroll, Anne Arundel, and Prince George's Counties. She became a Board-Certified Pediatric Clinical Specialist through the American Physical Therapy Association in 2004. This honor is awarded to therapists who meet strict standards of experience in pediatrics and achieve a passing score on a national examination.
She has been awarded contracts with the Montgomery County Public School System, Kennedy Krieger Home and Community Program, the Katherine Thomas School, the Montgomery Primary Achievement Center, Carroll County Public Schools and Infant/Toddler program, Community Services for Autistic Adults and Children, and Sheppard Pratt.
In 2011, Katie became licensed as a Zumba® Fitness instructor.  She expanded her physical therapy practice to include fitness and wellness services, and teaches classes throughout Frederick, Carroll, and Montgomery counties.  She also became licensed to teach Zumba® Gold (for beginners, senior citizens, or special populations), ZumbAtomic® (for children ages 4-12), and Zumba® Toning (for targeted body sculpting).
Katie lives with her husband and two children in Frederick County. She is active in her local community. She has donated handmade apparel and positioning devices to the Frederick Memorial Hospital Special Care Nursery. She served on the Frederick County Special Education Citizens Advisory Committee and volunteered as a Kids on the Block puppeteer with the Frederick County Mental Health Association. She enjoys rollerblading, flying trapeze, snowboarding, and muddy obstacle course races.